Well Hello friends and Happy Tuesday to you all! Did you miss me? LOL! Sorry I haven't posted but I've been away as most of you know teaching in NC over the weekend! I left on Thursday and got back at 2 am on Sunday morning, then spent the day/evening celebrating my belated wedding anniversary with my awesome hubby! We went to a nice, romantic dinner w/o the kids and had some alone time. It had been awhile since we dressed up for dinner and got some time alone which was really nice (see pic below). We are going away for a few days before Thanksgiving to celebrate our anniversary and hubby's 43rd birthday--that's my present to him :) And what did he get me? Well....................I got the AWESOME NEW IPAD!!! I just love that man, hee hee---it was supposed to be for my Xmas present but he got it for me early instead and I'm thrilled although I haven't had much time to play with it yet as I'm trying to catch up on work, lol! And yesterday I had over 6400 emails to go thru, invoices to send, cards to make and then help set up and attend my daughter's sports banquet--egads, life sometimes will kill ya, LOL!

Classes in NC were wonderful and I always feel so blessed to meet so many wonderful crafters and ladies--always fun! And I had a few ladies who drove over 8 hours to come to class in NC from Kentucky--wow! I'm so honored anyone would want to drive even 20 minutes to come take a class from me so thank you all! Waving hi to all my new friends and they'll know what I mean when I say "Come to the DARK side, hee hee"!! (you have to take a class to figure that one out, lmbo) I also got to spend some girlie time with my good pal Pat Jaynes who came in from SC and was my roomie in NC--we stayed up WAYYYYYYYYy too late (1:30 am) one night laughing and talking but it was worth EVERY Minute--love ya Pat!! And thanks to Betty at the Stamping & Scrapbooking Room store for having me and helping out---awesome store if you ever get to visit, filled to the brims with new and fabulous products *and yes I got some for meself, hee hee*!

I leave on Thursday for my last CMC Copic Classes on the road---I will be in Buffalo on Saturday (still spots left for anyone interested) and then onto Ontario, Canada on Sunday & Monday. I will be home late on Tuesday, phewwww. I'm staying with my grandma for a couple of days to visit too!

**I will have the last blog candy winner up tomorrow--I didn't forget, I'm just too tired to do it right now, sorry! **


Me & Hubby before our Anniversary dinner
******************************************
New Magnolia-licious Challenge Blog Info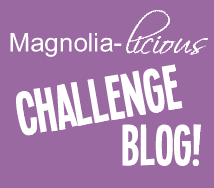 Well today I get to share a
NEW CHALLENGE BLOG
with you that I'm so excited about and I know most of you will be too! As you know I have designed for
Diana Crick at Magnolia-licious
for quite awhile and very luckily too! A bit ago she talked to me about creating a challenge blog for the store and I thought it would be a wonderful addition---it is called the
Magnolia-licious Challenge Blog
and you can visit it
HERE
! It has it's own very talented DT and there will be 2 challenges every month for you to join in on!
**
It is VERY DIFFERENT from the main DT for Magnolia-licious and our challenges/blog hops will still continue to be on the
Magnolia-licious Highlites Blog
twice a month as well---so you have the opportunity to do 4 challenges, 1 each week for both of these blogs!!
**
The very first challenge is by the
Team Leader Candy Mills
and it's to use
YELLOW
&
PINK
on your projects along with a fabulous Magnolia image or two! So we help you come play along with us all and get a chance at some great prizes. For the Grand Opening today, Diana will be giving away some fabulous prizes to random commenters and linkers so you want to definitely visit the blog asap for your chance at that today!
I knew as soon as I heard what the challenge was that I was going to use this super cute image called
"Tingla in Bunny Slippers"
from Magnolia-licious. When I saw a sneakie peekie of her at CHA this past summer I couldn't wait to get her and use her---she's just precious and I love her ruffly lil' panties and bunny slippers! She is from the
Autumn 2010 Collection which you can see HERE
as well---lots of cuties that's for sure! I used some older papers from My Minds Eye that I love and they had soft yellows and pinks in them which were perfect for the challenge!
Isn't she just squishable, hee hee? Baby Tingla has stickles on her lil' ruffly panties and on her hairbow--I also added it to the flowers. All my roses and flowers are from Prima but the rosebuds are from
Wild Orchid Crafts
(great source for flowers)! I die-cut the scrolls from my
Marianne Designs
dies out of cream cs and then sponged on pale yellow and peachy-pink ink to soften them a bit. For that I used my fave tool
Inkssentials Blending tool
which I use on all my images to soften around them with ink. The edges of the papers were distressed with my
Zutter Distress Tool
as well and I added some pearls to the side for a bit more bling. The ruffle alongside the one edge is my no-sew answer to ruffles, lol, since I HATE to sew. I just add the wide
1/2" Scor-Tape
to one side of my cs and then hand ruffle the sheer ribbon by attaching it along the scor-tape--easy and quick to do. I like that it echoes the feel of her ruffly panties! The sentiment is from PTI's "Baby Button Bits"!
She is of course colored with Copics (skin-E11,E00,R20/pink-R22,R21,R20/hair-E25,E35,YR20/yellows-YR21,YR20 and blender pen). The background is also done with Copics in E51,R00,W00,E42.
Hope you enjoyed my sweet baby Tingla card for the
NEW Magnolia-licious Challenge
today and hope you'll stop by the new challenge blog
HERE
to take part too!!